Wolvega (Fr): reformed church or Kerk op de Hoogte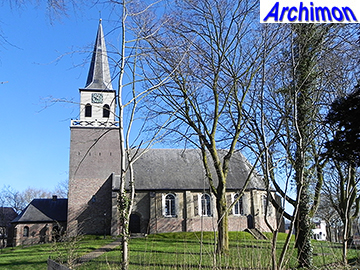 The church on the hill was built in 1646 out of the walls of its predecessor, an aisleless church which in catholic times was dedicated to Maria Magdalene. Why the church was replaced is unknown, nor what it looked like. Its position on top of an artificial hill (or terp) is a Frisian tradition, protecting the most important building of the village from floodings.

The current church was built in a style that has its roots in Gothic. It has a ground plan similar to many Gothic village churches in and outside the Friesland province, complete with a polygonal apse, and the walls are supported by buttresses. However, no pointed arches are present, and all windows are rounded at the top. Of special interest are the wooden shutters which were added in 1986 but had been present earlier, and are visible at photo's from ca. 1913.

Part of the church is an almost completely closed tower. It originally was entirely out of stone and had a storey with sounding holes and a spire on top. In 1805 the spire was replaced by a dome-shaped, lead-clad lantern which soon fell victim to harsh weather. In 1842 it was replaced by a new spire which was destroyed by lightning in 1894, after which the current wooden upper part with spire was built. Since the tower had no external door, the church was entered through a portal between the tower and the nave, with doors at both the north and south side.

In 1939 the portal was merged with the nave, which this way was extended with an extra trave. In the same period the church was extended with the chapel-like vestry at the west side, designed by E.J. Rothuizen. Earlier plans show this space projected at either the north side of the tower or at the north entrance of the nave, in both cases with a new entrance added to the western side of the tower. These plans were probably rejected because of the church's protected status.