Baak (G): St. Martinus (A. Tepe, 1888-1891)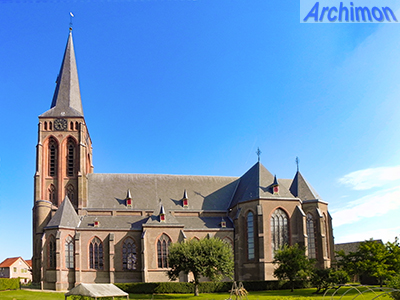 When in 1581 the catholic faith was banned, the old church of Baak became formally protestant. Within a hundred years it became a ruin until in 1776 only the lower part of the tower remained. The catholics in the meantime had been using hidden churches and barn churches, the last of which was built in 1773. In 1836 this church was rebuild with higher walls and windows in neo-Classical style. In this form it served until 1891.

In 1868 a rich parishioner died and left to the church a large sum of money, intended for the construction of a new church. It took two more decades before further steps were taken. Architect Alfred Tepe was probably commissioned in 1888, as in April 1889 the construction of the new church was tendered. Construction lasted two years, and in 1891 the church was completed.

Tepe designed a three-aisled pseudo-basilica with a front tower which is adorned with niches and traceries. The side-aisles are covered by shed roofs with the exception of each third trave, which has a protruding extension and is covered by hip roofs. The east part of the church consists of a polygonal transept and a choir with lateral chapels , all equally high as the nave. Connected to the choir by a short passage is a small chapel.

Because of the declining church attendance, in 2006 the nave has been seperated from the eastern part of the church by a glass wall and has been used for cultural and social events since. To access the religous part of the church an ugly new portal was built at the northern transept. There are plans to close the church and give a profane function altogether.