Heilig Landstichting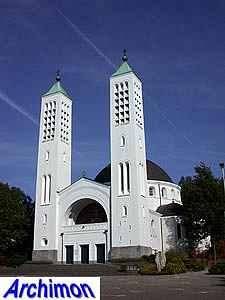 The church of Heilig Landstichting is the Cenakelkerk or St. Anthonius van Padua. It was built in 1913-1915 and was designed by Jan Stuyt and Jos Margry. The unusual design was inspired by Byzantine church architecture in the Middle East.
Location: Mgr Suysplein 3
De kerk van Heilig Landstichting is de Cenakelkerk of St. Anthonius van Padua. Zij werd gebouwd in 1913-1915 en werd ontworpen door Jan Stuyt en Jos Margry. Het ongebruikelijke ontwerp was ge´nspireerd door de Byzantijnse kerkarchitectuur in het Midden-Oosten.
Locatie: Mgr Suysplein 3