Huissen (G): O.L. Vrouwe ten Hemelopneming (G.M. Leeuwenberg, 1949-1962)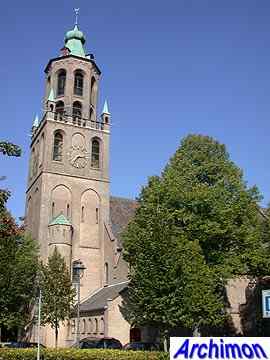 Because Huissen belonged to the Duchy of Cleves and the protestant Dutch Republic had no authority in the town, the old church always remained safely in the hands of the catholics. When Huissen became part of the Netherlands in 1802 the period of protestant rule was over. The church of Huissen was a Gothic pseudo-basilica from the 15th century with a short tower from the 13th century. In 1883 it was expanded with an octagonal neo-Gothic sacristy by A. Tepe, holding a tribune for the choir, but by the 1930's the church had become too small. In 1933 architect G.M. Leeuwenberg was trusted with the task of finding a way to enlarge the building.

Leeuwenberg's plan was to demolish the Gothic choir and Tepe's sacristy and to replace it with a large transept with a higher built-in choir, giving the church a T-shaped ground-plan, all in contemporary Traditionalist style. Because the southern transept-arm had a second storey for the church tribune, it was higher than the northern arm. In the interior the heavy pillars and most of the vaults were removed, the side-aisles narrowed and the main aisle widened with six meters by placing new pillars at new locations and covered with a wooden ceiling. The medieval church had been transformed into a christocentric church. It was completed in 1934 and in this form lasted only a further ten years.

In both 1943 and in 1944 Huissen was bombed, and little of the old town was left standing when the war ended in 1945. The church was largely destroyed, with little more than the walls of Leeuwenberg's transept and choir left standing. After the war it was decided not to rebuild the ruins, nor to incorporate them, but to build a completely new church instead. Architect G.M. Leeuwenberg was once again invited to make the plans. He designed a wide three-aisled basilica in a Traditionalist style, with tall side-aisles covered by seperate saddle-roofs. and a tower in a neo-Romanesque style.

Because the government prohibited the construction of such a big church due to shortage of materials, and because the archdiocese refused to make do with a temporary church, the design was simplified and the construction of the tower, chapels and apses postponed. The nave of the church was built in 1949-1950, with at the front a temporary facade with at the top a bell underneath a protruding roof. The tower and the apse were added in 1961-1962. As the three aisles of the nave are each covered by a double sloped roof, it is hard to see the clerestorey. Details are generally inspired by Romanesque architecture. The choir has a semi-circular apse with a blind dwarf-gallery and is flanked on either side by a chapel. The tower is mostly square but has an octagonal upper segment.