Godlinze (Gr): reformed church part 1/2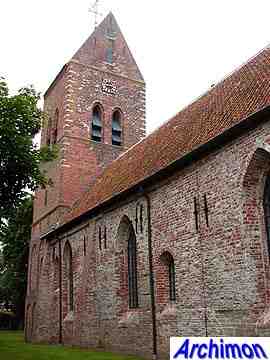 Godlinze grew around an artificial hill, called a wierde in this province, on which a church was built. This church was dedicated to St. Pancratius but was renamed to reformed church after the Reformation. A first church was probably built in the 11th century, a small tuff building on the position of the eastern trave of the current nave, and probably not much longer than. Fragments of tuff wall indicate that the side-walls of this old church have largely survived as part of the current ones. In ca. 1150 the old church was extended on the west side, using a smaller format of tuff stones. The nave was completed in brick the first half of the 13th century. In this period the walls were heightened and mellon-vaults added. The choir was built in the second half of that century.
Because the western facade is unusually thin, which suggests that it was intended to be temporary only, it seems plans were made to extend the nave even more. By that time the tower stood in the way, which had been built in the 12th century; its lower part remains and is ornamented in Romanesque style. The rest of today's tower dates from a rebuilt which started in 1554. On top is a saddle-roof, as common for the northern provinces.
The large Gothic windowin nave and choir were added in the 16th century, possibly in 1571 when the church was renovated. On the north side several Romano-gothic traces have been preserved. On several positions the nave is supported by buttresses, which are not original. Several similar buttresses were removed during a restoration in 1984-1987, when also the coat of plaster was removed from the exterior walls.
The interior is dominated by large Romano-gothic mellon-vaults with paintings from the 13th until the 16th century. The choir is seperated from the nave by a wall which was added in 1865.