Groningen (Gr): St. Jozef (P.J.H. Cuypers & J. Th. J. Cuypers, 1886-1887)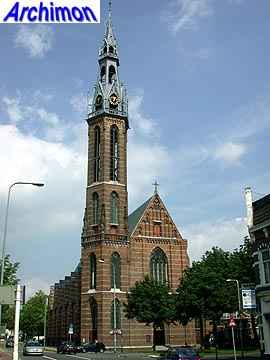 The St. Jozef has been the cathedral of the Groningen diocese since 1980. Before that another church by Cuypers, the St. Martinus, had been the cathedral of the diocese, which had been founded in 1956. The St. Martinus was demolished in 1982; on its location now stands the university library.
Cuypers, who put his son Joseph in charge of the execution of the project, took his inspiration for this church from the Broederenkerk in Zutphen, which had been also the main influence for Cuypers St. Vitus in Bussum. It's a three-aisled basilica with no transept. The otherwise rather sober design is decorated by layers of yellow stone, a feature of many churches of Cuypers' second period. At the north side is the undeep choir with its tall windows, with next to it the sacristy. At the south side stands the slim hexagonal tower which is crowned by an iron spire. On the other side of the facade is the presbytery.
The interior of the church is still mostly original.