Leermens (Gr): reformed church or St. Donatus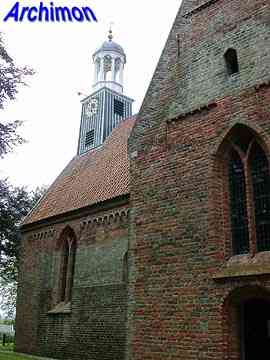 Like many churches in Friesland and Groningen, the church of Leermens is built on top of an artificial hill. It is a church with a complicated history. Of a tuff church built in ca. 1000 only the side-walls of the nave remain. In ca. 1100 a lengthened choir was built, to which two lateral chapels were added in 1175, using both tuff and brick. The lateral chapels were later transformed into a transept. The nave was heightened and the tower was replaced by a westwork with two towers. In 1822 this westwork was demolished and replaced by a new facade with a lantern-tower on top. The current tower dates from a restoration after a fire destroyed the old one, as well as much of the western part of the church, in 1957.
Ca. 1250 a new choir was built in Romano-Gothic style. This represents the early stage of Romano-Gothicism, with still only round-topped arches.
In the 16th century bigger windows in Gothic style were added to the nave and transept. This situation remains on the southern side, while at the northern side the Romanesque situation was reconstructed after 1957.
The interior shows a big contrast between nave and choir. While the choir has the typical Romano-Gothic mellon-vault, the nave is covered by a simple wooden ceiling. In the 14th century choir and nave were seperated from eachother by an organ-loft of which a small portion remains. At the same time the apses at the eastern side of the transept were demolished, although traces of these are clearly visible.