Niekerk (Gr): reformed church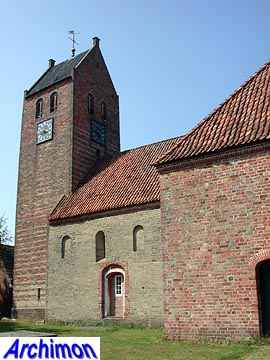 The church of Niekerk in the Grootegast municpality is a largely Romanesque building, most of which was built out of tuff in ca. 1200. The tower was built later in the 12th century using tuff as well as brick in alternating layers. In the same century a structure was built on the south side of the nave. Traces indicate that there either was a similar structure on the north side or there were plans to built one. The original choir with a semi-circular apse was replaced by a bigger choir in the 17th century.
The church was restored in 1964-1967. Several large windows were closed and small Romanesque windows were reconstructed. The coat of plaster that covered the church was removed, except for the choir.