Noordbroek (Gr): reformed church part 1/2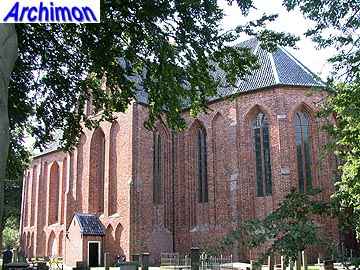 This church makes an interesting comparisson with the one in nearby Zuidbroek. Both are of the same type; one-aisled cruciform churches with a seperately standing tower. While the late 13th-century church in Zuidbroek represents the Romanogothic style at its height, this one is from the first half of the 14th century represents a later stage in which truly Gothic features became even more prominent. Like in Zuidbroek the north- and south walls of transept and nave are divided in two zones, a typical Romanogothic feature. In the lower zone, which is lower than the one in Zuidbroek, there are the usual blind niches, while the upper zone has tall and rather wide Gothic windows as well as narrow blind niches. The walls of the transept have gables on top, which are richly decorated with niches. The choir is purely Gothic and has a polygonal closure. The western facade was renewed in 1720.
The interior is covered by original mellon-vaults, except for the choir which has a reconstructed vaulting in Gothic style. Several old murals have been preserved on the vaults.