Onstwedde (Gr): reformed church or St. Nicolaas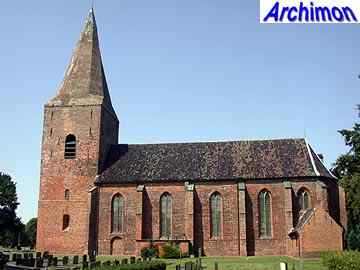 Already in ca. 875 there must have been a church in this village. It was a wooden building that stood on the same location as the current church. It is unknown when this first church was replaced but the tower and the nave date from different periods.
The tower was built in the 14th century in a Romanesque style that is completely devoid of decorative elements. It is possible that the tower at first stood seperate from the church, considering the traces of a sound hole at the back, where the roof of the nave touches the tower. The entrance at the north side is a later addition, originally the tower could only be entered through the nave. On top of the tower is a stone spire. According to a legend this tower was built by order of one of three sisters, the other two of whom had similar towers built elsewhere in the province. The tower in Holwierde was demolished in 1855, the one in Schildwolde has survived. Because of this legend the three towers were called 'juffertorens' ('ladies' towers'). For some reason the spire on this tower was built slightly turned.
The big one-aisled nave dates from the 15th century and is in late-Gothic style. It has been changed several times. A porch was added in 1713. During a restoration in 1928-1930 windows were opened on the north side.