Oosterwijtwerd (Gr): reformed church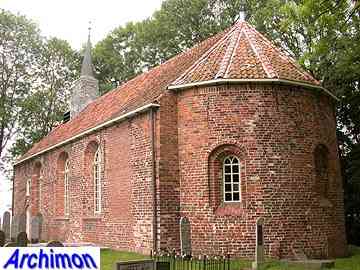 The church of Oosterwijtwerd is a small one-aisled church with a narrower, semi-circular choir and a steeple instead of a tower. The church is one of the first in this province that was built entirely of brick and dates from ca. 1237. It is closely related to the church of Marsum, which is from the same period but much better preserved in its original Romanesque state.
In the 16th century the walls of the nave were slightly lowered. The windows were enlarged in the 17th century; only in the north wall two of the original windows survived, as well as the wide recess that surrounds them and that used to cover almost the entire length of the nave originally. The steeple was added in the same century.