Sappemeer (Gr): St. Willibrordus (P.J.H. Cuypers, 1872-1873)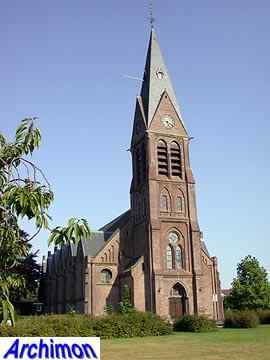 The St. Willibrordus was architect P.J.H. Cuypers' second church in the province of Groningen, after the one in Kloosterburen. Actually, Cuypers had been commissioned already in 1866, and since that year he had made three completely different designs designs for the church. The first design was too big for the parish and featured a tall tower. It was far too expensive and therefore not built, but in 1867 Cuypers used many elements of this design for his church in Blauwhuis (Fr). The second design had the right size but was too complex and thus still too expensive. Parts of the design were used in 1869 for his church in Dokkum (Fr). Eventually a design inspired by Westphalian late-Gothic was chosen.
It is a hall-church with a square-based tower, a variant of the one in Kloosterburen, with triangular gables at all four sides at the top. At the side-aisles all traves have separate gables with saddle roofs, a typically "Dutch" element that Cuypers used here for the first time. While Cuypers until then was influenced by French and German Gothicism, this is an early reference to indigenous Gothic styles in his work. Friezes and blind niches refer to the regional church architecture of the 14th century.
N. Molenaar, who later became an important architect himself and among others designed he church in nearby Martenshoek, was in charge of the construction.