Uithuizermeeden (Gr): reformed church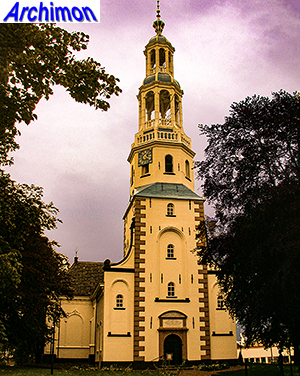 Underneath its uniform Classical style, the church of Uithuizermeeden features parts from different periods. The aisleless nave is from the mid-13th century and probably was in Romanogothic style originally. This church had at its north side a detached saddleback tower which was demolished in 1734. The choir was added in the 16th century and was originally in Gothic style.
Despite its age, the church looks nothing like a medieval church. In 1705 a transept was added. The tower was built in 1717-1726, with an interruption from 1718 until 1725. It was probably designed by Allert Meijer, the town architect of Groningen and also responsible for the tower of the Der Aa-kerk in that city.
The tower has a square lower part and an octagonal upper part with a tall wooden lantern. While the tower was being built the western facade was altered in Classical style.
The tower was struck by lightning in 1896 and the wooden upper part was completely destroyed by fire. It was rebuilt in 1897 without any major changes.