Houthem-St. Gerlach (L): St. Gerlachus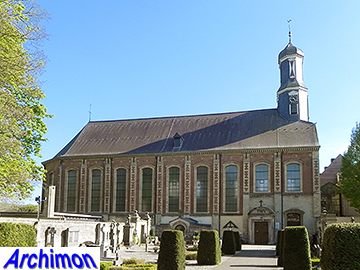 St. Gerlach was a knight who became a hermit and settled in Houthem in ca. 1157. There he lived in a hollow oak, built a small church and helped the sick and the poor. He died on January the 5th of 1164 or 1165. His grave attracted many pilgrims. In 1201 a cloister was founded near the grave. At first the cloister housed both men and women, but in 1225 it became a convent for noblewomen only, a Stift.
The Stift suffered badly during the Eighty Years War. In 1661 it became Spanish property, an enclave surrounded by land belonging to the protestant Republic. In 1713 the enclave became Austrian property. Between 1720 and 1727 a new church was built, an aisleless building in German Baroque style. The name of the architect is unknown, but some sources suggest that it might have been the same Johann Conrad Schlaun who several years later built the church of the Redemptorist monastery in Wittem and the St. Agatha in Eys, both as well being Baroque churches. In 1751 the interior was painted by Johan Adam Schöpf, who made 15 fresco's about the life of St. Gerlach. In the middle of the church is the saint's tomb.
In 1785 the enclave became part of the Republic after all, and the nuns were expelled. They moved to Roermond, where the last of them died in 1841. After a few years of neglect and military use the buildings were sold to the family Schoenmaeckers. The church was handed to the parish of Houthem in 1808. The fresco's were repainted with oilpaints in 1872. In 1971 the oilpaint layers were removed and the original paintings restored.