Mook (L): St. Antonius Abt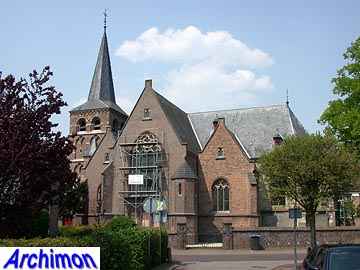 In the 13th or 14th century a first church was built in Mook. It was a one-aisled building that resembled a barn. In c. 1400 a marl choir in Gothic style was added. Later in the 15th century the brick tower was built. In the early 16th century the nave was extended with a brick transept. In 1550 the name of the church was changed from St. Adelbertus to St. Antonius Abt. After the Reformation, the church remained catholic, Mook belonging to the catholic Duchy of Kleef. However, in 1574, during the battle between catholics and protestants on the nearby Mookerheide, it was badly damaged. In 1675 French troops set the church on fire. The most drastic change to the building however occured in the 20th century. In 1910 the old nave was demolished and replaced by a new construction, designed by C. Franssen. Franssen replaced the old nave with a new three-aisled one in neo-Gothic style. This new nave is only one trave long, and the side-aisles on either side look actually like mirror copies of the old transept-arms. Between the new nave and the old transept a new, wide and tall transept was built. The old transept-arms became chapels. New chapels were added to both sides of the tower.
The church survived the heavy fighting in the region in the closing months of the Second World War with only slight damage.