Oirsbeek (L): H. Lambertus (F.P.J. Peutz, 1952-1953)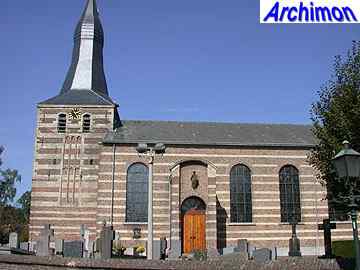 The history of this church goes back to the 13th or 14th century, when a church was built out of stones from the river Maas. In 1514 the tower of this church was clad with new walls, built of alternating layers of brick and marl. The current spire was added in the 18th century. In 1830 a new church in neo-Classical style replaced the medieval church.
That church had become much too small by 1950. Although plans had been made by architect F.P.J. Peutz to enlarge this church, in 1952 it was decided to replace the church altogether, except for the tower. Peutz designed a building in a Traditionalist style to match the style of the tower. The same materials, brick and marl, were used, again in alternating layers. Before the church was built the tower was restored and given a concrete foundation, as it started to sag as soon as the old church had been demolished.
The church, apart from the tower, consists of the nave with a side-aisle on the north side, and a semi-circular choir. On the north side, between tower and side-aisle, is a baptistry. Many stones taken from the demolished church were used for the new one. In late 1953 the church was finished.