Eersel (NB): St. Willibrordus part 1/2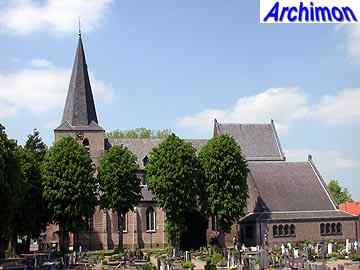 This church was founded for a parish that encompassed several hamlets and was built at a central position, which explains why it's not located in the centre of the village but rather on the edge of it.
The oldest part of this church is the tower, which was built ca. 1400. It consists of three simple segments seperated from each other by a ridge of tuff, and is supported by buttresses at all sides at the front. In the north-eastern corner a stair-turret serves as a buttress, while the south-eastern corner has no buttress at all. On top of the tower is an octagonal spire.
The three-aisled basilican nave was built in the 15th century. The height of the roof seems to indicate that originally a lower nave was intended; it now blocks the eastern sound holes of the tower. In the walls of the side-aisles layers of tuff were used. They also show clear traces of alterations to the windows; in 1881 these were changed in neo-Gothic style.
From 1648 until 1812 the church was protestant property, after which it was finally returned to the catholics. In 1930-1931 architect H.W. Valk enlarged the church. The side-aisles were extended to run along the sides of the tower, while the transept was extended to the north and south; until then it had been little more than two heightened traves of the side-aisles. Also two windows at the north side were reconstructed. The old choir was demolished and replaced by a new one with big lateral chapels. This resulted in a centralizing floor-plan with the altar at the crossing, with a crossing-tower above. Valk had thus transformed this medieval church into a christocentric one that met the modern liturgic demands of that time more than before.