Loo (NB): St. Petrus' Banden (C. Weber 1861-1863, C. Franssen 1896)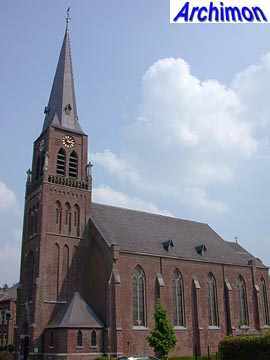 Until 1848 Loo was part of the parish of Bergeijk, although the village since 1790 did have a hidden church. For the first 13 years the young parish used that building, but in 1861 a new church was built, designed by C. Weber. The church of Loo is typical for this architect's early career. It's a three-aisled neo-Gothic church of the German Stuffenhalle type, a type of hall-church thst has side-aisles which are narrower than the central aisle. The side-aisles are closed at the back by polygonal apses. The choir is of the same width as the central aisle, only a bit lower. The modest buttresses indicate the absence of stone vaults. In all, the church is still a far cry from Weber's much more famous and impressive neo-Romanogothic churches. Weber built several similar churches in the province of Limburg.
It is not known whether Weber designed a tower for this church or not. The current tower was added in 1896 and was designed by C. Franssen, an important representant of the second generation of neo-Gothic architects.