Oirschot (NB): Reformed church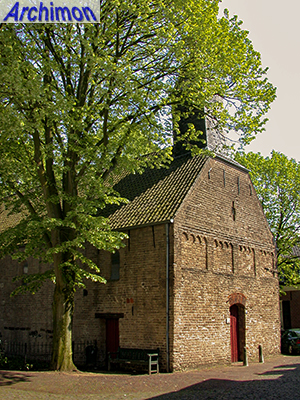 According to some sources the first church in Oirschot was built as early as the 5th century. This successor of that church however dates from the 12th century. It's a small one-aisled building in Romanesque style without a tower, not unsimilar to some older Romanesque churches in the province of Limburg, most notably the church in Lemiers. This is the oldest surviving type of church in the Netherlands.
In Catholic days the church was named Onze Lieve Vrouwekerk ('church of our lady'). It was the church of the parish, while a much larger collegiate church, the St. Petrus, located at only a short distance, was used by an important chapter. The original Romanesque choir was probably replaced by a Gothic one in the early 15th century, which itself was demolished in 1880 save for one trave. The floorplan of this choir is still visible in the floor behind the church. The back-wall appears to be more recent.
With the protestant victory in 1648 all catholic religious activities were banned and the few protestants in the village took over the St. Petrus for their own use. The parish church became a weighing-house for butter. From that time dates its nickname of 'Boterkerk' ('butterchurch'). The small belltower, covered with slates, was added in 1786. When the St. Petrus was returned to the catholics, now as a parish church, in 1801 this building became the protestant church.