Amsterdam (NH): Kerk van het H. Hart or Vondelkerk (P.J.H. Cuypers, 1870-1880)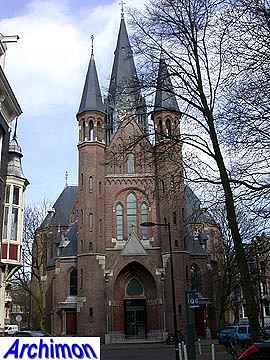 As a project developer P.J.H. Cuypers had already built the Vondelstraat in Amsterdam when he started building this church. Unlike the other catholic churches in the city its space was not restricted by adjacent houses or other buildings; for the first time in three centuries in Amsterdam a new catholic church could be built of which all sides would be visible. On an oval "island" in the middle of the street the church was constructed. Its floor plan follows the contours of the oval piece of land as closely as possible. Construction was started in 1872, but in 1873 lack of money prompted the organisation of a lottery to finish the building. Prices were donated by some very prominent people, including queen Sophie, the pope and French architect and Cuypers' tutor Viollet-le-Duc. In 1880 the church was finally finished.
Although this was Cuypers' favourite church, it was not without its problems. In 1892 cracks were discovered in the vaults. In 1904 a fire destroyed the tower on the crossing, and a new one was designed by Cuypers' son Joseph Cuypers. In 1978 the church was in such a bad state it had to be closed. Despite the fact that it was one of the first buildings from the 19th century to receive the status of protected monument, the threath of demolition became very real. A group of enthusiasts finally rescued the church and had it rebuilt into offices and a central space for cultural manifestations.