Egmond (NH)
Egmond consists of three parts; Egmond aan Zee, Egmond aan de Hoef and Egmond-Binnen. The three villages are part of the Bergen municipality.
Egmond-Binnen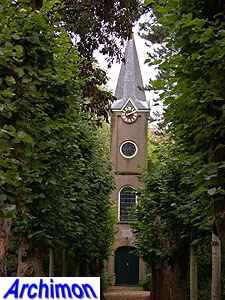 The reformed church of Egmond-Binnen was built in 1836 on the location of the church of the famous abbey of Egmond, which was founded as a monastery in 920 and was closed by the protestants in 1573. In 1574 the abbey was destroyed.
Location: Kloosterweg 2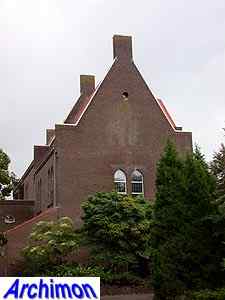 The abbey of Egmond was refounded in 1935. Architect A.J. Kropholler designed a new complex in Traditionalist style, only part of which was built. Eventually the abbey was completed by architect B.J. Koldewey, who also designed the church.

Location: Abdijlaan 26
Egmond aan den Hoef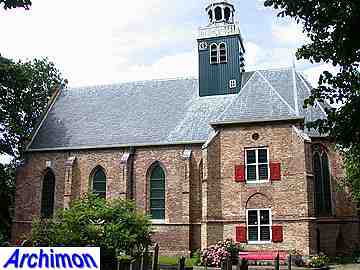 The reformed church of Egmond aan den Hoef, also know as Slotkapel, was built as the chapel of the castle of Egmond. In 1574 protestant troops burnt it down, but it was rebuilt in Gothic style in 1633.
Location: Slotweg 19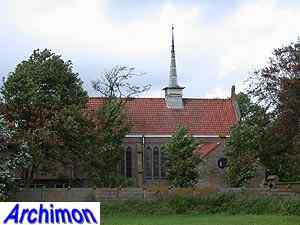 In 1930 this Carmelite convent Karmel was designed by C.M. van Moorsel and built in Traditionalist style.
Location: Herenweg 269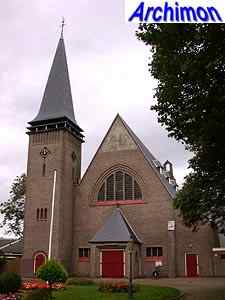 The H. Margarita Maria Alacoque is the Roman Catholic church of Egmond a/d Hoef. It was designed by J. Stuyt and built in 1923.
Location: Herenweg 188
Egmond aan Zee
The reformed church of Egmond aan Zee was built after 1741, when the big village church, which had been standing near the beach, collapsed during a storm and vanished in the sea. Because the village was still mostly catholic a much smaller church was needed for protestant services. Originally it was only three traves long, but in 1897 a fourth trave was added.
Location: Trompstraat 2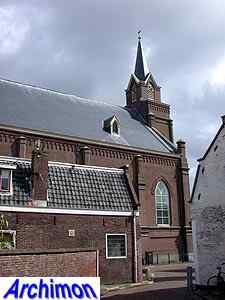 Egmond aan Zee has a large Old-Catholic community and is an important centre of this denomination which is the result of a conflict within the Roman Catholic church in 1702. This Old-Catholic church of H. Agnes was built in 1886 after a design by W. Raman. It's in a combination of styles, mostly early neo-Gothic, that were more common for churches about four decades earlier.
Location: Voorstraat 112
The small Roman Catholic O.L. Vrouwe Onbevlekt Ontvangen, built in 1905, was designed by architect A.A.J. Margy in a much simpler style than his usual neo-Gothic churches.
Location: Wilhelminastraat 12
Back to the Province of Noord-Holland