Haarlem (NH): Gereformeerde Koningkerk (B.T. Boeyinga, 1926-1927)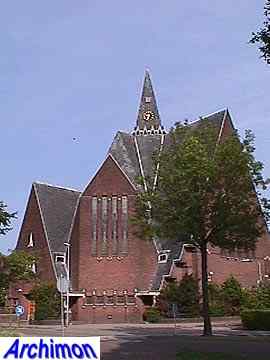 B.T. Boeyinga was one of a few Amsterdam School-architects who also designed churches (also see the article about Expressionism), including some of the most extravagant Reformed (Gereformeerd) ones. This particular church, originally called Kloppersingelkerk and later Zuiderkapel, was a two-storey building, consisting of three fan-wise arranged 'naves' with a total of 1200 seats that provided a good view at the pulpit. A later rebuilt of the interior spoiled much of the original effect. Remarkable for a church of this denomination were the sculptures of several protestant leaders.
Despite the unconventional look of this church, its design was in fact a simplified version of a design Boeyinga entered in a contect for a church in Amsterdam in 1924, which he failed to win.
In the night of the 23rd on the 24th of March 2003 the church was completely destroyed by fire. Three firemen died when a wall came down. The remains of the church were torn down. A completely new church was built on the site in 2006.