Kortenhoef (NH): St. Antonius van Padua (A. Tepe, 1879-1880)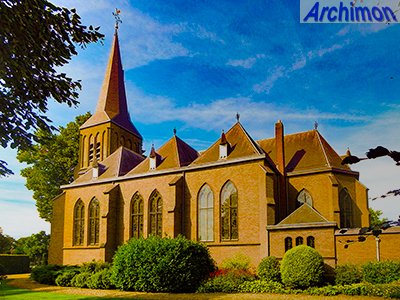 After the Reformation, when the village church became protestant, the catholics of Kortenhoef attended hidden churches in neighbouring villages, a situation which continued until 1810. That year a catholic post was founded with a former carriage house transformed into a church. But the catholic community was small and poor and almost lost its church to a creditor in 1815. Despite the situation in 1855 the post was elevated to a parish. Shortly thereafter the parish experienced an increase in the number of parishioners coming from the nearby and much more prosperous village 's-Graveland. Soon the church became too small and at too far a distance for most of the parishioners.
In 1877 a new priest was appointed who decided to build a new church closer to 's-Graveland. In 1878 a plot of land was purchased while in March 1879 the archbishop of Utrecht granted permission to tender the construction of the church and presbytery according to a design by the architect Alfred Tepe. Work began in July that same year and in June 1880 the completed church was consecrated.
The church is in neo-Gothic style, like all of Tepe's churches. It's a three-aisled hall-church with a rather unadormed exterior, unless the diagonally placed buttresses at the outer corners of the nave are counted. Each trave has two large pointed windows and the side-aisles are covered by a shed roof for each trave, square on the roof of the central aisle, a composition not repeated in Tepe's career until 1904, when he designed the church of Bawinkel, Germany. The choir extends from the central aisle while the spaces between the choir and the side-aisles are occupied by sacristies similar to those of many of Tepe's other churches, being square and covered with a pyramid roof.


While the nave is without ornamentation, the tower is adorned with niches and traceries as well as a frieze halfway which resembles a fake balustrade, a feature also present in some of Tepe's other churches from the period ca. 1877-1883.

There have been plans to replace the church by a bigger one just before the Second World War, which probably prevented it, and again around the year 1965. This time the church was saved by the secularization. In 1976 the church became a protected monument.