Muiden municipality / Gemeente Muiden (NH)
Muiden is a town and a municipality in the Noord-Holland part of the Vechtstreek region, dating back to the 10th century. The municipality also includes the village Muiderberg.
Muiden is een stad en een gemeente in het Noord-Hollandse deel van de Vechtstreek en dateert uit de 10e eeuw. De gemeente omvat ook het dorp Muiderberg.
Muiden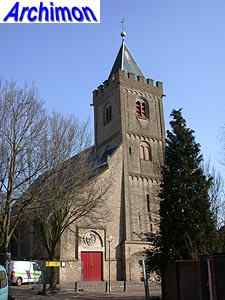 The reformed church or Grote Kerk has a 12th-century Romanesque tower but is otherwise a Gothic pseudo-basilica from the 15th century. The church is covered with natural stone on the outside.
Location: Kerkstraat 3
De hervormde Grote Kerk heeft een romaanse toren uit de 12e eeuw. De kerk zelf is een gotische pseudobasiliek uit de 15e eeuw. De kerk is aan de buitenkant bekleed met natuursteen.
Locatie: Kerkstraat 3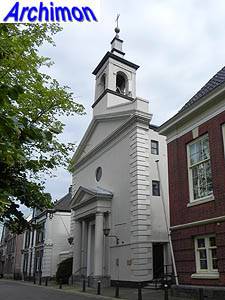 The catholic St. Nicolaas is an aisleless cruciform church, built in 1822 from a design in Neo-Classical style by T.F. Suys. In 1894 part of the church was replaced by a transept and choir in Neo-Romanesque style.
Location: Herengracht 83
De katholieke St. Nicolaas is een eenbeukige kruiskerk, in 1822 gebouwd volgens een neoclassicistisch ontwerp van T.F. Suys. In 1894 werd een deel van de kerk vervangen dor een transept en koor in neoromaanse stijl.
Locatie: Herengracht 83
The old Gereformeerde Kerk is a small building in a non-specific style. It was built in 1890 and was replaced in 1928. It's now a house.
Location: Hellingstraat 51
De oude Gereformeerde Kerk is een klein gebouw in een niet-specifieke stijl. Het werd gebouwd in 1890 en werd vervangen in 1928. Het is nu een huis.
Locatie: Hellingstraat 51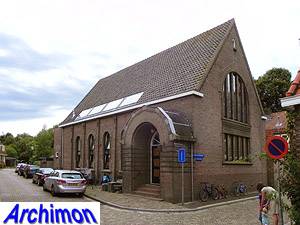 In 1928 a new Gereformeerde kerk, or Singelkerk, was built. It's in Expressionist style and was designed by N. Doornberg. This building also is nowadays a house.
Location: Singelstraat 28
In 1928 werd een nieuwe Gereformeerde kerk, of Singelkerk, gebouwd. Het gebouw is in expressionistische stijl en is ontworpen door N. Doornberg. Ook dit gebouw is tegenwoordig een huis.
Locatie Singelstraat 28
Muiderberg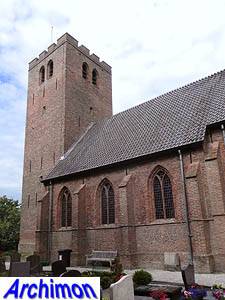 The reformed church is an aisleless church in Gothic style, built in the 15th century. It was destroyed by fire in 1630 and not repaired until 1686. After another fire destroyed the spire, the tower was crowned with battlements.
Location: Kerkpad 2
De hervormde kerk is een eenbeukige kerk in gotische stijl, gebouwd in de 15e eeuw. Het gebouw werd verwoest door een brand in 1630 en pas in 1686 hersteld. Nadat nog een brand de spits verwoestte werd de toren bekroond met kantelen.
Locatie: Kerkpad 2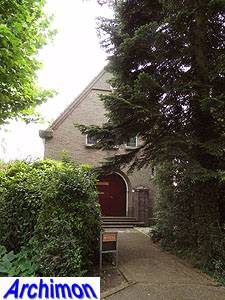 The former Gereformeerde kerk is a small building in simple Expressionist style. It was built in 1926.
Location: Populierenlaan 2b
De voormalige Gereformeerde kerk is een klein gebouw in eenvoudige expressionistische stijl. De kerk dateert uit 1926.
Locatie Populierenlaan 2b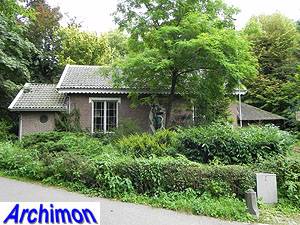 The catholic Maria Sterre der Zee ('Mary Star of the Sea') or Boskapel was built in 1953 by the drastic conversion of a farmhouse from ca. 1875. The church is in Traditionalist style.
Location: Brink 29
De katholieke Maria Sterre der Zee of Boskapel werd gebouwd in 1953 door de drastische verbouwing van een boerderij uit ca. 1875. De kerk is in traditionalistische stijl.
Locatie: Brink 29