Denekamp (Ov): St. Nicolaas (W. te Riele, 1910-1912)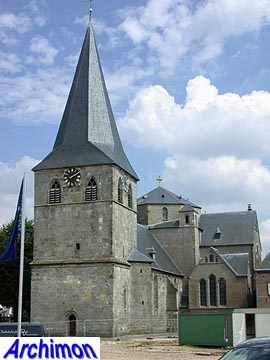 The history of the St. Nicolaas dates back to ca. 1276, the year in which Denekamp is mentioned as a parish for the first time. The early church must have been a small building measuring 10 x 10 meters and roughly is the eastern trave of the nave of today's church. This trave is in a Romanogothic style, with narrow pointed windows and has a portal on the south side. In the mid-14th century the church was extended to the west with another trave in a similar style, while a tower was built in the 15th century. These old parts were built of Bentheimer sandstone.
After having been used by the protestant minority for about two centuries, the church was returned to the catholics in ca. 1810. Soon thereafter the three-sided choir was demolished to make space for a transept and a new choir, again using the Bentheimer stone. This extension lasted for about a hundred years. In 1910 work began on a major enlargement. Architect Wolter te Riele had designed a big new eastern portion in combined neo-Gothic and neo-Romanesque styles which dwarfed the old part and contrasts with it in the material used, being mainly built of bricks, with natural stone only used to emphasize edges. This new part consists of a transept with polygonal crossing-tower, which covers a dome, and a choir with lateral chapels and has a centralizing ground-plan. Te Riele also gave the tower, which until had been fully closed, an entrance in a pseudo-Romanesque style, a style which is historically incorrect for this part of the church.