Traditionalism & the Delftse School
The "Delftse School", or Delft School as it probably would be translated in English, was a traditional-minded direction in architecture between c. 1920 until c. 1955, influenced by the ideas of M.J. Granpré Molière (1883-1972), professor of architecture in Delft from 1924 to 1953. Typical for this style are the preference for tidy brickwork, a minimal use of decorations, the inspiration taken from national architectural traditions and the use of "honest" (i.e. traditional) materials. In many aspects this was a direct successor of the style of Rationalism as propagated by architects like H.P. Berlage and K.P.C de Bazel, and a reaction to both the excessive decorations of the Amsterdam School and the cynical minimalism of the functionalists. The most important architect of this group is A.J. Kropholler, others are C.H. de Bever, C.M. van Moorsel, J.F. Berghoef, G. Friedhoff and H.T. Zwiers.
In the style of the Delftse School many churches were built, especially catholic ones (see the chapter about Traditionalism in the churches section). The style reached its height after WW2, when architects of the group became responsible for most of the country's rebuilding-projects until c. 1955. In the 1960's the style disappeared under pressure of Functionalism.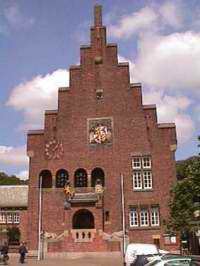 A.J. Kropholler's townhall in Waalwijk (NB) was built in 1932, and is one of the most important monuments of this style. Until 1962 more buildings by Kropholler were build at the same square.
Another form of traditionalism is the Bossche School ('School of 's-Hertogenbosch'), which itself emerged from the Delftse School. This specific style was especially of importance in church architecture after World War Two.
Back to Architectural styles