Doorn (U): reformed church or Maartenskerk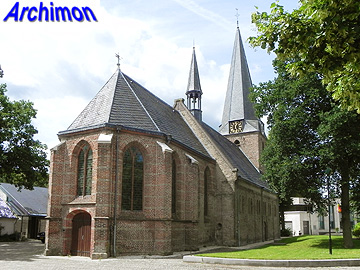 The old church of Doorn, in catholic times called St. Maarten, dates back to ca. 1180, although it had a wooden predecessor as early as 885, making it one of the oldest churches in the province. It belonged to the chapter of the St. Maarten church in Utrecht. The oldest part of the current church is the northern half of the nave, which is in Romanesque style and built out of tuff. A sober brick tower was added in the 14th century. The original Romanesque choir was rebuilt and heightened and lengthened into the current choir in Gothic style. Much of the walls of the Romanesque choir was kept, as is still clearly visible on the north side. The rest of the Gothic choir was built out of brick with layers of tuff taken from the demolished apse. On the south side a sacristy was added, blocking any Romanesque remains from view.
In 1581 the catholic religion was forbidden by the authorities of the province of Utrechtand all churches were confiscated. Like all other churches in the province, the Maartenskerk of Doorn became a protestant church and it has remained one ever since. The oldest images of the church are from the 18th century, showing the nave with windows of various sizes, probably not original. In the 19th century a door was added to the east end of the choir, to serve as the new main entrance. Also, the windows were replaced by larger, pointed ones, six on the north side of the nave and four (and a portal) on the south side. Internally galeries had been built to accomodate the growing population. During a restoration in 1887-1888, the walls of the nave were heightened to accomodate a new roof with wooden barrel-vaults, which explains why the eastern sounding-hole of the tower is partly blocked. The most radical change to the church occured in 1924, when the originally aisleless church was extended with a southern aisle designed by architect J.C. Wentink, almost doubling the size of the nave. The south wall of the old nave was completely demolished and replaced by two arches. The old part of the nave was restored in neo-Romanesque style, similar to the new part, with double windows replacing the pointed windows.