Everdingen (U): H.H. Petrus en Paulus (A. Tepe, 1898-1899)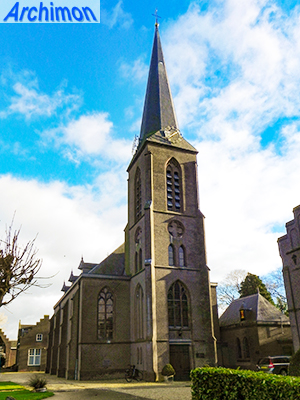 At the late-18th century the first catholic church of Everdingen since the Reformation was a room in a farm house, next to the old and now reformed church. In 1802 it was replaced by a barn church at the edge of the village, a modest building which encompassed presbytery and church hall under one roof and which looked like a regular barn except for a small wooden bell tower added in 1806.
Already in 1863 there had been plans to replace the church, but the first step in that direction was only the construction of the new presbytery in 1876, designed by architect Alfred Tepe. It took another two decades before plans for a new church became serious, but finally in 1898 Tepe was commissioned to design the church as well. Work was tendered in January 1899 and already in December that same year the church was consecrated..

Tepe designed a three-aisled hall church with all aisles covered by a single hip roof, leaving a space between the roof and the upper part of the tower. The combination with the slightly lower roof of the choir results in an interesting silhouet for the otherwise simple church. Only the tower is adorned with niches.