Houten (U): Onze Lieve Vrouwe ten Hemelopneming (A. Tepe, 1884-1885)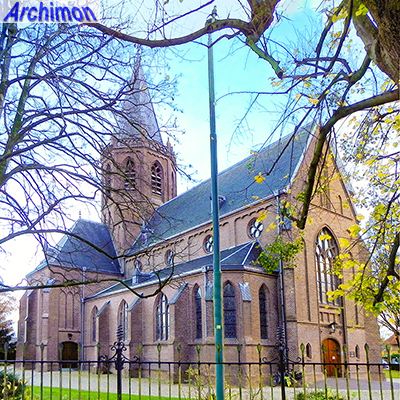 Until 1798 the catholics of Houten attended semi-clandestine barn churches in nearby villages Schalkwijk, Jutphaas and Bunnik. After the ban on the catholic religion was lifted at the end of the 18th century they attempted to get back the old village church. However the protestants violently resisted and the catholics eventually decided to build a new church. It was still a true barn church, with few if any exterior characteristics that betrayed its true nature. It served until 1885.
In 1882 architect Alfred Tepe was commissioned to design a new church. The church was built in 1884-1885. It's a three-aisled cruciform basilica in neo-Gothic style, but is otherwise unique in Tepe's career. Instead of a conventional front tower there's a hexagonal crossing-tower, plus a small stair-turret next to the facade. This is the only time Tepe used a crossing-tower for one of his churches, an idea that he apparently took from churches in the Ardennes. Also the Romanesque details, which are especially present in the clerestorey, make this an exceptional part of Tepe's extensive body of work.