Langbroek (U): reformed church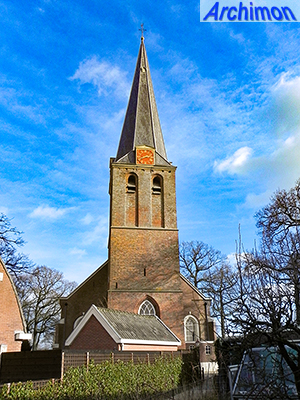 Until the 12th century (the) Langbroek was a marshland located in the Rhine delta, south of the Utrecht Hill Ridge. When the area was cultivated two settlements appeared, the village Nederlangbroek and the smaller Overlangbroek to its east. Although the two officially form a single village, they are almost 5 kilometers apart. The name Nederlangbroek has largely been replaced by the name Langbroek.
A first church was built in the 12th or 13th century. In the second half of the 15th century a Gothic church was built, of which the tower and the choir remain. Old renditions of the church shows it to be with a probably aisleless nave and a slighty higher choir which was about the same width. The nave was replaced in 1870 by the current higher and , most likely, wider one in neo-Classical style. The choir lost most of its Gothic features when it was covered with a coat of plaster. It serves as a consistory.