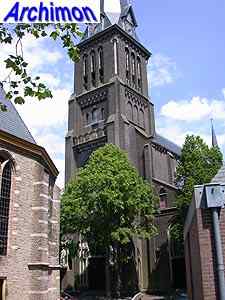 Unlike the Old-Catholics, the Roman-Catholics chose a new patron saint for their church after the ban on their religion was abolished. The H. Franciscus van Assisi is a Neo-Gothic church from 1881, designed by E.J. Margry.
Location: Kapellestraat 15
In tegenstelling tot de Oud-Katholieken, kozen de rooms-katholieken voor een nieuwe patroonheilige voor hun kerk nadat het verbod op hun godsdienst werd afgeschaft. De H. Franciscus van Assisi is een neogotische kerk uit 1881, ontworpen door E.J. Margry.
Locatie: Kapellestraat 15