Overlangbroek (U): reformed church or Hyacinthuskerk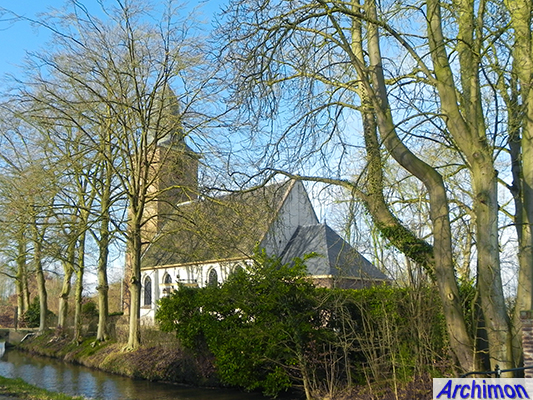 Overlangbroek is more of a hamlet than a village, basically a number of farms stretched out along a single road. Officially it even is part of the village Langbroek, the center of which is some 5 km to the west. However, ever since ca. 1335 Overlangbroek has had its own church, which was built in front of the castle Zuilenburg, part of which is still present. Originally it was dedicated to St. Hyacinthus, but since 1581 the church has been a protestant one.
An old engraving shows it as an aisleless church in Gothic style, with the choir higher than the nave and a sacristy or chapel on the south side. Of this church only the tower with its distinctive helmet spire remains. It was built in ca. 1504. In 1832 the choir was demolished while the nave was either entirely replaced or radically rebuilt in neo-Classical style. In 1913 the consistory on its east side was built, replacing one built in 1857.