Utrecht (U): St. Willibrordus (A. Tepe, 1875-1877)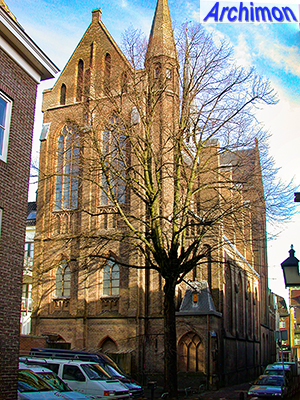 The St. Willibrordus is one of Utrecht's oddest churches. Only relatively small parts of it are directly visible from the street as it's almost completely closed-in by other buildings. It was built at the site of a former catholic orphanage which moved to a different location in 1875. Probably that same year architect Alfred Tepe, who had designed the new orphanage, was commissioned to design the new St. Willibrordus as well. The tender for the construction was held in November.
Despite the difficulties the available piece of land brought along with it, the architect managed to build a church as conventional as possible in between the surrounding houses, none of which could be demolished.
The result, consecrated in June 1877, is a relatively short cruciform basilica in Tepe's usual sober neo-Gothic style; the church is mostly executed in brick, with no use of natural stone. For lack of space the transept does not exceed the width of the nave. It has no tower but only a stair-turret at the front and a tall steeple on the crossing. To add some more visibility the entire church is unusually high and has a big clerestorey to let the light in that would otherwise be blocked by the surrounding houses. Because the church is oriented, with the choir facing the east, access to the church is through a corridor at the north side of the church, where some space in the street was available. Also built on this space were a small cloister and a seperate two-aisled chapel with on top of it the choir loft. The facade is horizontally divided in segments of different heights which itself are vertically divided in two mirroring parts. A few years later Tepe used a very similar facade layout for the Jesuite church in Amsterdam, only more ornamented and flanked by two towers.
The inside the church is an impressive example of a church interior in the style of the Guild of St. Bernulphus. This has almost completely survived.
Like in most churches in city centers, in the 1960's the St. Willibrord saw a rapid decrease in the number of parishioners. Plans were made to divide its territory between the two other parishes in the center. In 1967 the Utrecht archdiocese closed the church and with the intention of having it demolished. However, in 1968 the church was sold to a contractor who intended to find a new use for the building. Soon a new traditionalist catholic community rented the chapel to held its services, and later used the church itself for that purpose. After having rented the church for many years, the community bought it in 1986. In 1990 a restoration began which lasted until 2005.