Vinkeveen (U): H. Hart van Jezus (A. Tepe, 1880-1883)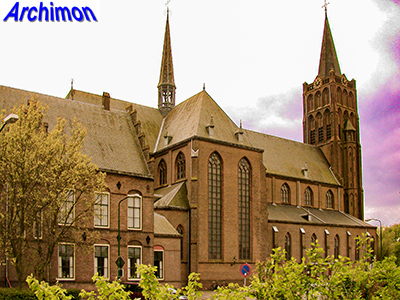 Although Vinkeveen has existed since the 12th century, it took a long time before a church was built in the village. In the first half of the 19th century finally churches were built for both protestants and catholics. The catholic church was built in 1842, but became too small several decades later, in part due to an influx of seasonal workers from Germany. The latter replaced their church less than fourty years later by the current one. The old church served as part of a convent for several more decades.
In 1880 architect Alfred Tepe was commissioned to design a new church. As always he designed a neo-Gothic church, a big three-aisled cruciform basilica, using brick as the main material and in a style inspired by the Gothic churches of the Lower Rhine-region. At the request of the priest the choir has an ambulatory, the only church designed by Tepe to have such a feature.
The construction was hindered when in July 1881 the supply of bricks stopped and new suppliers needed to be found. In October that year a storm damaged the tower, which was still under construction. Eventually the church was consecrated in July 1883.
The tower originally had a tall constricted spire, covering the entire upper square of the tower, like most of Tepe's churches. In 1914 the spire was blown off the tower by storm, and instead of just replacing it it was decided to add another segment to the tower, the part with the blind niches ad the balustrade, and place a shorter octagonal spire on its top. The architect of this part of the tower is not known.