Woerden (U): St. Bonaventura (N. Molenaar Sr., 1890-1892)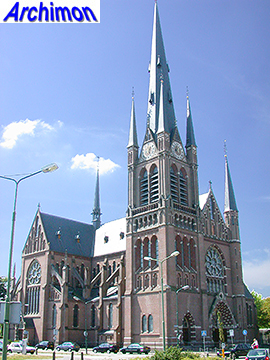 After the Reformation only a small part of Woerden's population remained catholic. In 1630 a period of clandestine services began, in a brewery serviced by wandering priests until in 1653 a permanent priest was appointed. In the 18th century a tolerated but still hidden church could be build, which in 1843 was enlarged and given a more churchlike look. It served until 1892, when the current church was completed.
The current church was designed by N. Molenaar, who got the assignment thanks to a town counsil member who felt the architect deserved to be compensated for a case of plagiarism; two years earlier a new town hall had been built which was the mirror image of Molenaar's town hall of Noordwijk, of course without giving the architect his due.
The St. Bonaventura would be one of Molenaar's most important designs. It's a big three-aisled cruciform basilica in a neo-Gothic style based on early French Gothic and is perhaps a bit excessive in its many details. Because the entire church is covered by brick vaults it has flying buttresses all around. The transept is also flanked by side-aisles. Standing next to one of the front is a square tower with a tall spire and four corner-turrets and decorated with niches, while a much plainer cylindrical stair turret flanks the other side. The church is mostly built of brick, with small pieces of natural stone used for ornamental purposes only.