Albrandswaard municipality / Gemeente Albrandswaard (ZH)
Municipality in the vicinity of Rotterdam, consisting of the villages of Poortugaal and Rhoon.
Gemeente in de omgeving van Rotterdam, bestaande uit de dorpen Poortgugaal en Rhoon.
Poortugaal
The Reformed church is a Gothic three-aisled cruciform building with parts from the 14th, 15th and 16th centuries.
Location: Kerkstraat 90
De Hervormde kerk is een gotische driebeukige kruiskerk met onderdelen uit de 14e, 15e en 16e eeuw.
Locatie: Kerkstraat 90
Rhoon
The reformed church dates from the 15th and 16th centuries and is also in Gothic style.
Location: Dorpsdijk 65
De Hervormde kerk stamt uit de 15e en 16e eeuw en is eveneens in gotische stijl.
Locatie: Dorpsdijk 65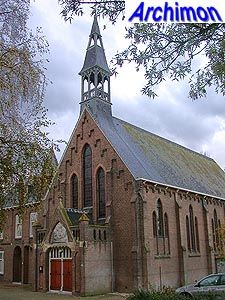 The catholic St. Willibrordus is a small aisleless building in neo-Gothic style, designed by A.C. Bleijs and built in 1893-1894.
Location: Dorpsdijk 234
De katholieke St. Willibrordus is een kleine zaalkerk in neogotische stijl, ontworpen door A.C. Bleijs en gebouwd in 1893-1894.
Locatie: Dorpsdijk 234