Oegstgeest (ZH)

Village and municipality at the North-Western side of Leiden. A first church was built already in the 9th century, forming the center of the first of several unconnected settlements that later became Oegstgeest. Nowadays, the village has a mostly urban character and is effectively a suburb of Leiden.

Dorp en gemeente aan de noord-westkant van Leiden. Een eerste kerk werd reeds in de 9e eeuw gebouwd en vormde het middelpunt van de eerste van een aantal onderling niet verbonden nederzettingen waaruit het huidige Oegstgeest is voortgekomen. Tegenwoordig heeft het dorp een grotendeels stedelijk karakter en vormt het in feite een voorstad van Leiden.
After the medieval catholic St. Willibrordus was destroyed in 1574, it was rebuilt as the reformed

Groene Kerk

('Green church') after 1600. The Romanesque tower was demolished in 1830. Nowadays, the church lies at some distance from the village center.

Location: Haarlemmerstraatweg 6

Nadat de middeleeuwse katholieke St. Willibrorduskerk in 1574 grotendeels werd vernield, werd de kerk na 1600 herbouwd als de hervormde Groene Kerk. De romaanse toren werd gesloopt in 1830. De kerk ligt tegenwoordig afgelegen van de dorpskern.

Locatie: Haarlemmerstraatweg 6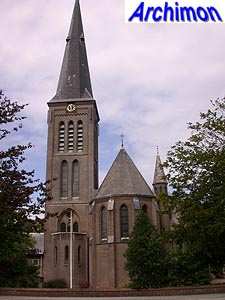 In 1901 the catholic St. Willibrordus was built, a Neo-Gothic church designed by J.Th.J. Cuypers and J. Stuyt. It replaced a smaller and less monumental 18th-century church.
ocation: Rhijngeesterstraatweg 35
In 1901 werd de katholieke St. Willibrordus gebouwd, een neogotische kerk ontworpen door J.Th.J. Cuypers en J. Stuyt. De kerk verving een kleiner en veel eenvoudiger gebouw uit de 18e eeuw.
Locatie: Rhijngeesterstraatweg 35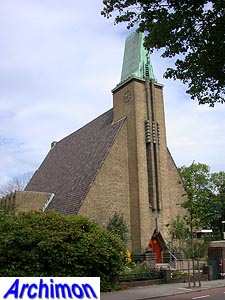 The Pauluskerk was built as a second reformed church in 1932. The church in moderate Expressionist style was designed by F.B. Jantzen. It's now a cultural center and stands at the border with Leiden.
Location: Warmonderweg 2
De Pauluskerk werd in 1932 gebouwd als tweede hervormde kerk, voor het sterk gegroeide Oegstgeest. De kerk in zakelijk-expressionistische stijl werd ontworpen door F.B. Jantzen. Het is nu een cultureel centrum en staat aan de gemeentegrens met Leiden.
Locatie: Warmonderweg 2
Built for the Gereformeerden in 1923, the

Rehobothkapel

was renamed Willem de Zwijgerkerk when it was sold to another protestant denomination in 1933. The small building with its unusual thatched roof was designed by local architect H. Wilms and is now a house.

Location: Willem de Zwijgerlaan 1

Gebouwd voor de Gereformeerden in 1923, werd de Rehobothkapel al in 1933 omgedoopt tot Willem de Zwijgerkerk, nadat het wasverkocht aan een andere protestantse gemeente. Het kleine gebouw met zijn ongebruikelijke rieten dak werd ontworpen door de plaatselijke architect H. Wilms en is nu een huis.

Locatie: Willem de Zwijgerlaan 1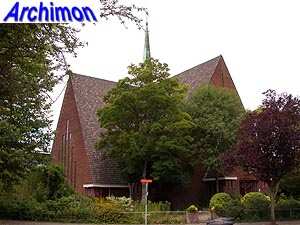 To replace the Rehobothkapel, the Gereformeerde

Mauritskerk

, a church in moderate Expressionist style, was built in 1934. It was designed by A.T. Kraan.

Location: Mauritslaan 12

Ter vervanging van de Rehobothkapel werd in 1934 de Gereformeerde Mauritskerk gebouwd, een kerk in zakelijk-expressionistische stijl. Het gebouw werd ontworpen door A.T. Kraan.

Locatie: Mauritslaan 12