Goirle municipality (NB)
Municipality located to the south of the city of Tilburg, bordering Belgium. It comprises the villages of Goirle and Riel.
Goirle
Goirle's oldest church is the St. Johannes' Onthoofding. The tower dates the mid-15th century, although it was heightened with 10 meters in 1898 when a new church designed by Jos. Cuypers was built to replace the original one.
Location: Kerkstraat 1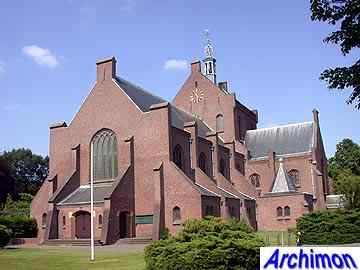 Of Goirles two churches the Maria Boodschap is the youngest. It was built in Traditionalist style in 1939 and was designed by C.H. de Bever. A tower which was part of the design was never built.
Location: Van Malsenstraat 1

Riel
The catholic church of Riel is the St. Antonius Abt, a neo-Gothic church designed by P.J. van Genk and built in 1895. The transept was added by J.H.H. van Groenendael in 1931.
Location: Kerkstraat 3

Back to the Province of Noord-Brabant