Westland municipality (ZH)
Municipality covering most of the region with the same name. Main town is Naaldwijk. The other places are De Lier, 's-Gravenzande, Heenweg, Honselersdijk, Kwintsheul, Maasdijk, Monster, Poeldijk, Ter Heijde and Wateringen.
Naaldwijk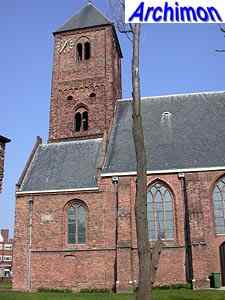 The reformed Oude Kerk or Adrianuskerk is a large 15th-century Gothic pseudo-basilica with a 13th-century tower in Romanesque style.

Location: Wilhelminaplein 5







The chapel of the

Heilige Geesthofje

("courtyard of the holy Spirit") is a small building in an unclear style. It was built in 1641 and served as a synagogue from 1807 until 1922.

Location: Heilige Geesthofje 2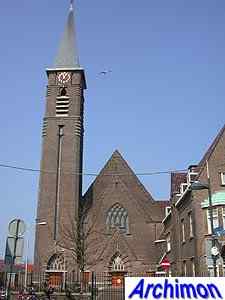 hThe catholic St. Adrianus is a three-aisled church in Expressionistic style, built in 1930-1933 after a design by Jos Margry and A.G. Dessing.

Location: Molenstraat 29

De Lier
The reformed church of De Lier, locally called Dom, is a big pseudo-basilica in Gothic style from the mid-15th century. The tower has no buttresses and leans towards the side.
Location: Hoofdstraat 51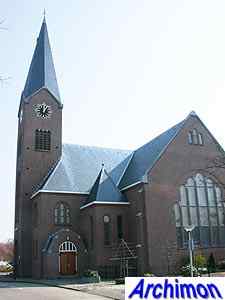 The Gereformeerde Vredeskerk is a cruciform building in simple Rationalistic style. It was designed by H. Onvlee and built in 1923-1924

Location: Oranjestraat 1

Honselersdijk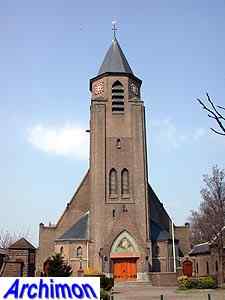 The catholic church of Honselersdijk is the O.L. Vrouwe van Goede Raad, a three-aisled building in Traditionalist style with neo-Gothic influences, designed by N. Molenaar jr. and built in 1927-1928.

Location: Dijkstraat 23

Monster
The reformed church of Monster is a big three-aisled hall-church in Gothic style. It was built in the late-14th century out of a one-aisled cruciform church from the 13th century , which itself was a conversion of a chapel from the 11th century. The tower was built between 1400 and 1450.

Location: Kerkplein 1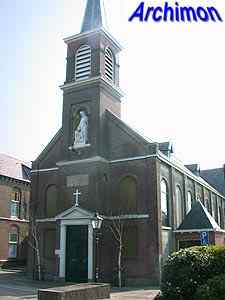 The St. Machutus is a catholic church in neo-Classical style. The one-aisled building was built in 1828-1831 and was designed by S. van Rijswijk. The tower was added in 1859 and was designed by J. van Rees.

Location: Choorstraat 103

Poeldijk
The St. Bartholomeus of Poeldijk is also called "cathedral of the Westland". The big neo-Gothic church was built in 1924-1926 after a design from 1913 by N. Molenaar sr..

Location: Voorstraat 109

Wateringen
Wateringen's reformed church has seen many changes since it was originally built. The Gothic nave was built in the mid-15th century and was part of a much bigger church by 1532. Part of the tower is from the 14th century, but in ca. 1800 its age was hidden behind a new coat of bricks.

Location: Plein 5

The catholic St. Jan de Doper is a three-aisled pseudo-basilica built in 1900-1901 after a design by A.A.J. Margry and J.M. Snickers. The church has a slightly centralizing ground-plan, due to the transept being thee-aisles wide as well.

Location: Herenstraat 162