Beusichem (G): reformed church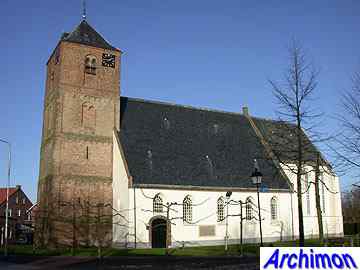 The reformed church of Beusichem, originally known as St. Johannes de Doper, is a three-aisled pseudo-basilican church in a combination of Romanesque and Gothic styles. The oldest part of the church is the tower, or better: the lower four of its five segments. These date from the 12th century, are made of tuff and feaure Romanesque details. The sounding holes of the fourth segment were filled when in the first half of the 15th century the upper segment was added. The little pillars of the old sounding holes were used again the new ones.
The nave was built in the 14th century, using the side-walls of an earlier building. The choir was built in the same period as the upper part of the tower, in the first half of the 15th century. Nave and choir were given a white coat of plaster in the 19th century. In 1961 the consistory on the north side of the choir was built, replacing a building from 1891.