Druten (G): H. Ewalden (P.J.H. Cuypers, 1875-1877)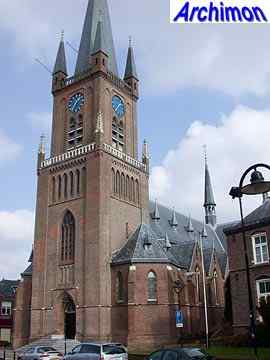 In ca. 1250 a small Romanesque church was built in Druten, named after a group of missionaries that travelled through the Netherlands in ca. 693. Although the church was confiscated by the protestants after the Reformation, Druten continued to be a mainly catholic village. In 1800 the church finally returned in the hands of the catholics. As the parish grew steadily, in 1822 the old church was demolished and replaced by a new one. In 1874 P.J.H. Cuypers made the first plans for an even bigger church, the current neo-Gothic three-aisled cruciform basilican church. Quite a big church for the village. The main tower, which is in a rather decorative neo-Gothic style, is two segments tall, with small decorative turrets on the corners of the top of each segment, with balustrades between them, resulting in a silhouet that represents a vision of Jerusalem. The current spire is a simplified post-war replacement of the original one. Next to the tower is a polygonal baptistry, with another chapel on the other side. The choir has a five-sided closure and lateral choirs on both of its sides. Each trave of the side-aisles has a gable as well as a roof of its own, a typical feature from Cuypers' second period, in which he found inspiration from medieval churches in his own country, rather than in France or Germany. In this case the church of Princenhage was the source of inspiration, which was restored by Cuypers in 1873. Like that church, at the H.H. Ewalden the centre between the gables of the side-aisles marks the position of the windows in the clerestory.
To finance the construction of the church, and to save money, a brick-factory was founded by the parish. This factory was also designed by Cuypers. Villagers carried the stones to the construction site. Help from outside was not accepted. A new presbytery was built on the site of the old church.