Tiel (G): St. Maarten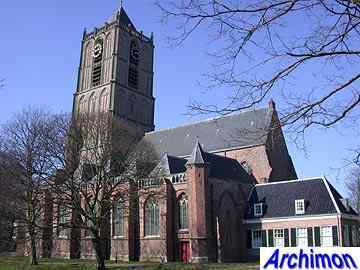 At the peak of its glory Tiel had two big churches, one for the noblety and one for the citizens. The first one, the St. Walburg, was demolished in 1680. This St. Maartenskerk (church of St. Martin) was the church of the people, the centre of everyday religious and social life. It has a long history of changes and rebuilts. Excavations showed that its oldest parts date from the 9th century and that the church was built in no less than eleven stages, spread out over seven centuries. The oldest visible parts however date from the 15th century, when a mostly new church was built in Lower Rhine Gothic style.
In ca. 1420 a three-aisled pseudo-basilican nave was built, of which the situation at the northern side is preserved the best, although central aisle and side-aisle originally weren't under the same roof . A few decades later the southern side-aisle was widened. Each trave of this side-aisle was given a roof of its own. The tower was built after ca. 1440 and is regarded a highlight of Lower Rhine Gothicism. In ca. 1558 work began on a new transept and choir, which were never completed because of the Reformation. In November 1578 the protestants took over the building. All altars and sculptures were removed from the church and burned outside. The unfinished new choir was left to fall to ruins until it was demolished in 1731, except for the sacristy that was saved and now stands seperately from the church. In the 18th century the central aisle and the northern side-aisle were covered by one single roof. In that same period a portal was built at that side of the church.
In the closing months of World War Two the church was severely damaged, and has been restored several times since. The foundations of various parts of the church have been made visible in the ground behind the church during the restoration of 1958-1964.