Varik (G): St. Petrus en Pauluskerk (A. Tepe, 1877-1879)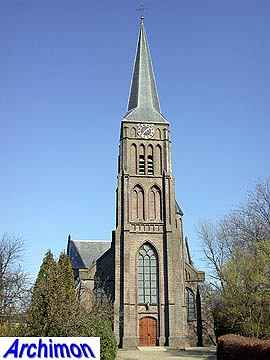 The history of the church of Varik goes back to the 10th century or even earlier. In ca. 970 there must have been a church in the village, perhaps even two. Further details about this church, or churches, are not known, and the only reminder of the medieval church is the lonely tower at the edge of the village.
After the Reformation Varik remained mostly catholic, despite the ban on the religion but partly due to the local nobility remaining catholic as well. In 1577 a unique compromise was made that temporarily banned not only catholic religious activity, but protestant as well. Obviously this did not last long, as in 1585 a catholic priest was arrested and the church itself became protestant, although no one knows when. The catholics were served by travelling priests or attended hidden churches in Alem and Tiel. In 1688 the lord of Varik was given permission by the authorities to found a catholic mission (in Dutch: statie) which served the catholics in the wider vicinity. Its church was a building at the lord's mansion. When that place could no longer be used a simple barn church was built, which in 1732 was replaced by a shack transformed into a church, which in 1784 was destroyed by a flood. In 1788 a new one was built. When in 1853 the mission became a parish it still used the church of 1788. Beginning in 1860, the parish saved money for a new church, even neglecting maintenance to the old one. Finally in 1875 architect Alfred Tepe was commissioned to make the design for a new church. In January 1878 work on the construction finally began, and in July 1879 it was consecrated.
The church is is a three-aisled cruciform pseudo-basilica with three-sided closed choir, lateral chapels and a tower of three storeys with a stair-turret. It is representative for much of Tepe's work, being designed in a style related to Lower Rhine Gothic and built of brick, with no use of natural stone.
Tepe also designed the presbytery next to the church.The church suffered some war damage in 1945, but thankfully most could be repaired.