Zaltbommel (G)


Zaltbommel is a historic town and a municipality in the Bommelerwaard region in the south-western part of Gelderland. One of the other places in the municipality is the village of Kerkwijk. This page is not complete.

Zaltbommel is een historische stad en een gemeente in de Bommelerwaard in het zuid-westelijke deel van Gelderland. Een van de andere plaatsen in de gemeente is het dorp Kerkwijk. Deze pagina is niet compleet.
Zaltbommel




The Grote of St. Maartenskerk ("Great Church or Church of St. Martin") is one of the best preserved examples of Lower Rhine Gothicism. While the choir dates from the 14th century and is rather modest in style, the nave and especially the tower are richly ornamented. During the Reformation it became a protestant church but it is no longer used for regular services.

Location: Kerkplein 1

Grote of St. Maartenskerk is een van de best bewaarde voorbeelden van de Neder-Rijnse gotiek. Terwijl het koor uit de 14e eeuw dateert en vrij bescheiden is in stijl, zijn het 15e eeuwse schip en vooral de toren rijk versierd. Tijdens de Reformatie werd het een protestantse kerk, maar het wordt niet meer gebruikt voor regelmatige diensten.

Locatie: Kerkplein 1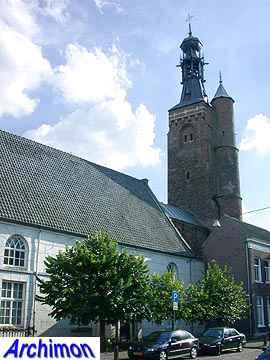 The Gasthuiskapel was built as the chapel of a hospital in the 15th century. IThe aisleless building must originally have been in Gothic style, but it was drastically altered in the 19th and 20th centuries.
Location: Gasthuisstraat 34
De Gasthuiskapel werd in de 15e eeuw gebouwd als de kapel van een gasthuis of hospitaal. De zaalkerk moet oorspronkelijk in gotische stijl zijn geweest, maar het gebouw is drastisch veranderd in de 19e en 20e eeuw.
Locatie: Gasthuisstraat 34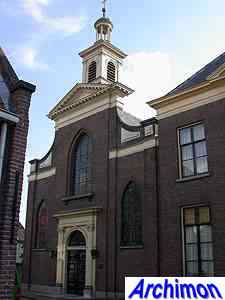 The Roman Catholic St. Martinus dates from 1837 and is in neo-Classical style. It's very similar to many other churches from the same period, and was not designed by a true architect but by government engineer E. Kroon.
Location: Oliestraat 28
De rooms-katholieke St. Martinus dateert uit 1837 en is in neo-classicistische stijl. Het is zeer vergelijkbaar met veel andere kerken uit dezelfde periode, en is niet ontworpen door een echte architect, maar door de overheid ingenieur E. Kroon.
Locatie: Oliestraat 28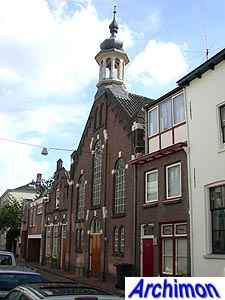 Eben Haëzer is the name of this protestant church, designed by E.G. Wentink and built in 1900. Originally it was built for the Gereformeerden protestant denomination but as a result of increased cooperation between protestant denominations it is now used by all protestants.
Location: Korte Steigerstraat 11
Eben Haëzer is de naam van deze protestantse kerk, ontworpen door E.G. Wentink en gebouwd in 1900. Oorspronkelijk werd het gebouwd voor de Gereformeerden protestantse denominatie, maar als gevolg van de toegenomen samenwerking tussen de protestantse denominaties het nu wordt gebruikt door alle protestanten.
Locatie: Korte Steigerstraat 11
Kerkwijk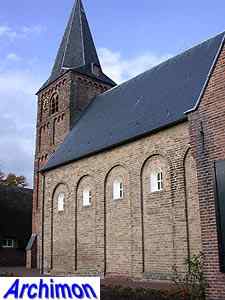 The Reformed church is a largely Romanesque church with an aisleless nave from the 12th century and a tower from the13th century. The Gothic choir is from the 15th century.


Location: Aalderwijksestraat 16

De Hervormde kerk is een grotendeels romaanse kerk met een eenbeukig schip uit de 12e eeuw en een toren uit de 13e eeuw. Het gotische schip stat uit de 15e eeuw.

Locatie: Aalderwijksestraat 16
Back to the Province of Gelderland