Noordwolde (Gr): reformed church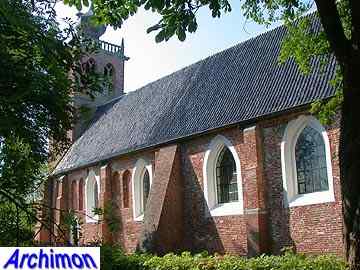 The church of Noordwolde is a one-aisled building with a straight choir and a tower. The lower part of the tower is probably the oldest part of the church and was originally in Romanesque style. Originally nave and tower were seperate; in 1639 they were connected by the current western trave. At around the same time the tower was heightened with two segments as well as newly clad. On top is an onion dome, the only one in the province.
The nave was built in Romanogothic style in the second quarter of the 13th century. Interestingly, the south side was more elaborately decorated with blind niches with decorative masonry than the north side. In the original configuration, each window on the south side was flanked on either side by two equally large blind niches.
In the 14th century the straight choir was built, also in Romanogothic style. The gable of the east wall is decorated with stepped blind niches. The big pointed windows in the nave and the choir date from the 17th century. The windows are held in white plaster frames which are found at many more churches in the region. Especially at the south side of the nave these windows interfere with the original Romanogothic details.