Zeerijp (Gr): reformed church or Jacobuskerk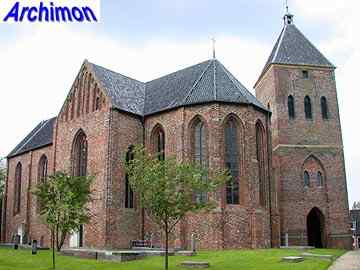 This church represents the last phase of Romano-Gothicism. It has pointed Gothic windows but also the typically Romano-Gothic gables, as well as other decorations.
To the north-east of the church is a free-standing tower which served as a gate to the church-yard. The tower also dates from the 14th century. This combination of a church with a seperate tower is not unusual for this province, and for example can also be found in Noordbroek and Zuidbroek.
The church, originally dedicated to the apostle Jacob but protestant since more than 400 years, dates from ca. 1350. It's a single-aisled cruciform building. Unlike earlier Romano-Gothic churches it has a clear vertical accent, which is typical for Gothicism. For instance the walls are no longer divided in horizontal zones with niches. The interior is however still dominated by the mellon-vaults which are so characteristic for Romanogothicism.
Of interest are also the colours of the interior, a reconstruction of the oldest known state found after removing a coat of white plaster. The walls are painted red, divided by white-painted fake seams. The vaults are painted in various decorative patterns. Only at the vault of the choir the coat of white plaster remains.