Linne (L): St. Martinus (C.J.H. Franssen, 1897)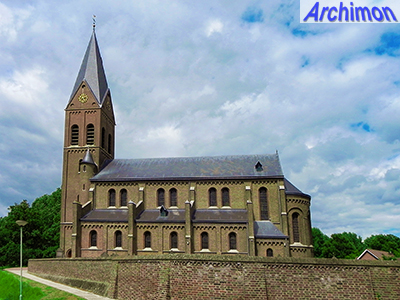 In 1867 the church of Linne, which had been built in 1790, had become too small. Several plans for enlargement were made, including one by P.J.H. Cuypers, until it was decided to build an entirely new church. In 1896 700.000 bricks were made. In March 1897 the old church was demolished. Immediately work on the new church began. Instead of Cuypers his former employee C. Franssen made the design. Franssen had designed several neo-Gothic churches before, but in Linne for the first time he used the neo-Romanesque style.
The church is a three-aisled basilica with a semi-round choir and a tower. The tower was blown up in 1945 and rebuilt in 1950-1951, possibly by the architect's son J. Franssen. In 1992 an earthquake damaged its upper part, which was rebuilt in 1993.