Geertruidenberg municipality / Gemeente Geertruidenberg (NB)


Municipality in the north-west of the province, consisting of the town of Geertruidenburg and the Raamsdonksveer and Raamsdonk villages. These places were originally part of Holland, Geertruidenberg even was the oldest town of that province, but were transfered to the province of Noord-Brabant in 1815.

Gemeente in het noord-westen van de provincie, bestaande uit de stad Geertruidenburg en de dorpen Raamsdonksveer en Raamsdonk. Deze plaatsen behoorden oorspronkelijk tot Holland, Geertruidenberg was zelfs de oudste stad van die provincie, maar werden in 1815 bij de provincie Noord-Brabant gevoegd.

Geertruidenberg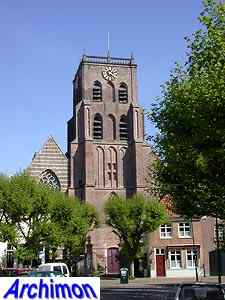 The reformed church of Geertruidenberg is also known as Geertruidskerk. It's a Gothic hall-church from the 14th, 15th and 16th centuries.

Location: Elfhuizen 3
De hervormde kerk van Geertruidenberg is ook bekend als Geertruidskerk. Het is een gotische hallenkerk uit de 14e, 15e en 16e eeuw.
Locatie: Elfhuizen 3
Raamsdonksveer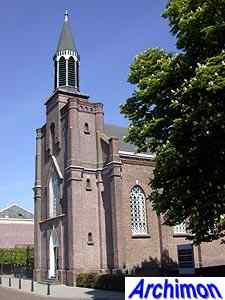 The reformed church of Raamsdonksveer was built in 1860 and is in an early neo-Gothic style. It was designed by an architect C. Seters.
Location: Emmastraat 13
De hervormde kerk van Raamsdonksveer werd gebouwd in 1860 en is in een vroeg-neogotische stijl. Het gebouw werd ontworpen door een zekere architect C. Seters.
Locatie: Emmastraat 13
The Gereformeerde kerk was built in 1941, replacing a church destroyed in May 1940. The new church was designed by B.W. Plooij and is possibly his first building in Traditionalist style.
Location: Maasdijk 14
De
Gereformeerde kerk
werd gebouwd in 1941, ter vervanging van een kerk verwoest in mei 1940. De nieuwe kerk werd ontworpen door B.W. Plooij en is mogelijk diens eerste gebouw in Traditionalistische stijl.

Locatie: Maasdijk 14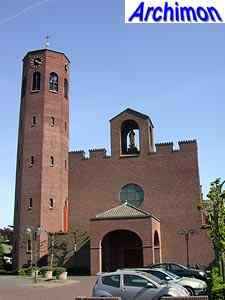 Much of Raamsdonksveer was destroyed in 1944, including the Neo-Gothic catholic church. The current church O.L. Vrouw Hemelvaart was built in 1957 and was designed in Traditionalist style by C.H. de Bever.
Location: Grote Kerkstraat 1
Een groot deel van Raamsdonksveer werd verwoest in 1944, met inbegrip van de neogotische katholieke kerk. De huidige kerk O.L. Vrouw Hemelvaart werd gebouwd in 1957 en werd ontworpen in traditionalistische stijl door CH de Bever.
Locatie: Grote Kerkstraat 1
Raamsdonk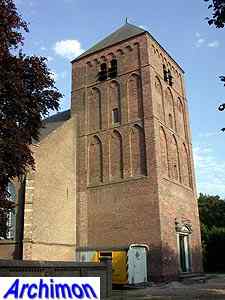 The former reformed church of Raamsdonk, the Lambertuskerk, is located a little outside the actual village. The tower was built in c. 1350 as part of an older church, the current church was built in the late 15th and early 16th centuries.
Location: Kerklaan 4
De voormalige hervormde kerk van Raamsdonk, de Lambertuskerk, ligt een beetje buiten het eigenlijke dorp. De toren werd gebouwd in c. 1350 als onderdeel van een oudere kerk, werd de huidige kerk gebouwd in de late 15e en vroege 16e eeuw.
Locatie: Kerklaan 4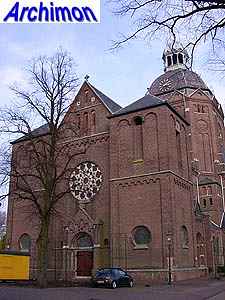 At a more central place in the village is where the catholic St. Bavo stands. It's a big church in neo-Romanogothic style, designed by C. Weber and built in 1888-1889. It's two front towers were never completed, but the church does have a tall crossing tower.
Location: Kerkplein 2
Op een meer centrale plaats in het dorp staat de katholieke St. Bavo staat. Het is een grote kerk in neoromanogotische stijl, ontworpen door C. Weber en gebouwd in 1888-1889. De twee voorste torens werden nooit voltooid, maar de kerk heeft wel een hoge vieringtoren.
Locatie: Kerkplein 2