Raamsdonk (NB): St. Bavo (C. Weber, 1888-1889) part 1/2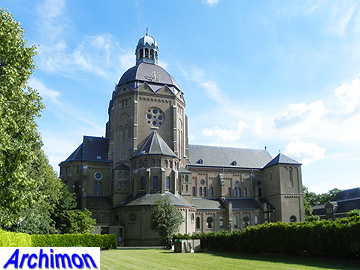 In 1609 the catholics of Raamsdonk lost their church, which had been confiscated and handed over to the protestant part of the community. The catholics now were forced to meet in secret. After 1672, when France invaded the Republic, the official anti-catholic policy was loosened a bit. After 1690 the catholics were able to held services in a hidden church in a nearby village. The often much celebrated tolerance of that time came not for free though; the catholics had to pay 315 guilders each year for this religious freedom, in that time a small fortune. In 1787 the climate had become more tolerant, and the catholics were allowed to build a new church. There were a few restrictions in order not to upset the protestants; the church was to be unrecognizable as such, it was to be built at a remote piece of land, and bells were right out of the question.
In 1798 the Republic ceased to excist, and catholics again were able to practise their religion in freedom. Attempts to get the old church back failed, although the protestants were forced to pay them 7000 guilders for compensation. The catholics continued to use their overcrowded church, which was disguised as a barn, for almost another century.
In 1888 the construction of a new church was started, designed by architect C. Weber, who had previously designed the churches for nearby Geertruidenberg (1862, demolished in c. 1965) and Raamsdonksveer (1864, destroyed in 1945). Weber designed a big cruciform basilica in neo-Romanogothic style, with a cloverleaf-shaped eastern part with apses with ambulatories at the choir and the transept-arms, a big polygonal crossing tower and two square frontal towers. Although these western towers were never finished, this church is often called the architect's finest work.
The tall dome is visible from a long distance. That almost meant its destruction, as on October the 30th in 1944 a group of German soldiers came to blow it up in order to prevent its use as an observation-post by the British. The priest however could convince them not to do this when he found out that the soldiers were from the Alsace, which was again under French rule at that time. The soldiers left without finishing their business, and a few days later the British were able to use the church as an observation-post.