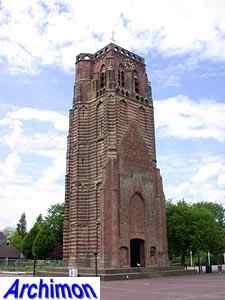 Of the medieval St. Michaël's church only the tower in Campine Gothic style remains. This tower dates from the 15th century. The original church was demolished in 1836, after having been returned by the protestants to the catholics in 1800, and replaced by a new church in neo-Classical style. That church itself was replaced in 1930 by the current church on a different location.
Location: Petrus Dondersplein
Van de de middeleeuwse St. Michaëlskerk resteert alleen de toren in Kempengotische stijl. Deze toren dateert uit de 15e eeuw. De oorspronkelijke kerk werd afgebroken in 1836, nadat deze in 1800 door de protestanten weer aan de katholieken was teruggegeven, en vervangen door een nieuwe kerk in neoclassicistische stijl. Die kerk zelf werd in 1930 vervangen door een nieuwe kerk op een andere locatie.
Locatie: Petrus Dondersplein